About World Urban Parks Japan
History
IFPRA Japan was established in July 1990 to provide contact for and disseminate information among IFPRA members in Japan. As Ifpra evolved into World Urban Parks, IFPRA Japan changed its name to World Urban Parks Japan in June 2015.
Aims
Our aims are to create a co-operative network of members within Japan, and to contribute to improving park use and management both domestically and internationally.
Activities
World Urban Parks Japan exchanges information, maintains contact with World Urban Parks Headquarter and the Asia Pacific Region, and attends congresses. World Urban Parks Japan also makes World Urban Parks Congress reports, holds seminars for information exchange on park management around the world and takes care of paperwork such as submission of membership application to World Urban Parks Headquarters.
IFPRA Japan published " Good Practice on Hamamatsu Resolution" on 17th November 2010 in order to spread the aim of the Hamamatsu Resolution which was adopted at the 20th IFPRA World Congress and to link the resolution to actual projects.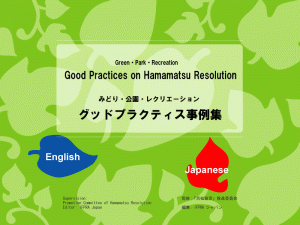 "Good Practices on Hamamatsu Resolution"
Click here to download the contents.
List of Good Practices

Membership
Corporate 19
Individual 41
Total 60
As of December 2020
Secretariat
c/o Parks and Recreation Foundation Edogawabashi Bldg. 2F, 1-47-12 Sekiguchi, Bunkyo-ku, Tokyo 112-0014, Japan
Tel  : +81 3 6674 1188
Fax : +81 3 6674 1190
E-mail : worldurbanparksjapan [at] prfj.or.jp
※Please replace [at] by @, when sending a message to the above address.